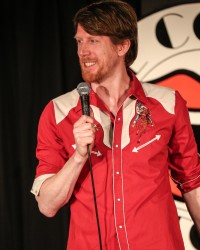 Christian Schulte-Loh



Download Bio

Christian Schulte-Loh
Christian Schulte-Loh is an international stand-up act from Germany who has performed in clubs and at festivals in more than 30 countries.
Christian regularly performs at the biggest clubs in the UK, Germany and on the European circuit. He has been called "a funny German – the only one!" (KKUNST MAGAZINE, Belgium), and THE SPECTATOR wrote about him: "one of the most subversive acts ever".
Christian performs in English and German, and has also gigged in Spanish. He has toured the world, often appears on German television and is a regular at the Edinburgh Fringe.
In addition to being a comedian, writer and MC, Christian is also very experienced in the field of corporate events.In April 2017 he published his first book in Germany. "Zum Lachen auf die Insel" is about his adventures as a German comedian in Britain.
His UK TV and Radio credits include Paul Hollywood's Big Continental Road Trip (BBC2),The One Show (BBC1) and Britain vs The World (BBC Radio 4)
Testimonials
"One of the most subversive acts ever. The gags have an astonishing freshness and power'
"A funny German – the only one!"
"Has the hilarity factor!"