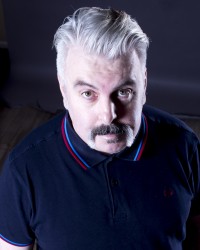 Mick Ferry



Download Bio

Mick Ferry
Mick Ferry
EDINBURGH COMEDY AWARD WINNER – PANEL PRIZE 2014 – FUNZ & GAMEZ
BEST LIVE UK STAND-UP 2013 – THE UK COMEDY AWARDS   As voted by fellow comedians
BEST STAND-UP NOMINEE - North West Comedy Awards 2006
Manchester based Mick Ferry is renowned as a fine purveyor of lugubrious surrealism and is established as one of the most sought after comics on the British and International comedy circuit.  One of the finest comperes around, at ease bantering with a crowd but with no shortage of first-class material, Mick performs regularly at The Comedy Store in London and Manchester, as well as being sought after at comedy venues across the UK and internationally.  A supremely talented and versatile performer, Mick is also an esteemed member of The Cutting Edge at the London Comedy Store; a furiously paced, topical team show in which Mick continues to hone his talent for off-the-cuff, satirical and topical comedy, wowing audiences with his spontaneous acerbic outbursts and razor sharp wit.
Mick began his assault on the stand-up circuit back in 1998, making it to the finals of Channel 4's esteemed So You Think You're Funny? competition.  His stand up career has gone from strength to strength and he is now widely recognised as one of the most talented and original stand-ups to have emerged from the North.  Testament to this fact, he has been invited to perform alongside stand-up luminaries Johnny Vegas, Sean Lock, Peter Kay, Al Murray and Steve Coogan – having the honour of joining each of them as a special guest on live shows.  His eminence within the stand-up community was further underlined in 2013 when he won the Best Live Stand Up Award, as voted for by his contemporaries.
A creative and prolific writer, Mick has had an impressive catalogue of solo shows; debuting his first show Mick Ferry's Won F*&K All! to a sell-out audience and great critical acclaim at the Manchester Comedy Festival back in 2004.  He went on to produce and perform in a regular monthly show in Manchester; Mick Ferry's Space Cadets.  His debut at The Edinburgh Comedy Festival came in in 2004 when he appeared as part of the highly regarded Big Value Comedy Show.  He has been a regular fixture at the Edinburgh festival ever since, presenting his first full solo show in 2009; The Comedy Final.  He returned in 2010 with The Missing Chippendale (Body Issues), in 2011 with Sod It and in 2013 with Mick Ferry Has Been Found Wanting.  He returned to the Edinburgh Festival in 2014 with another new show What's Going On?. He also starred as Uncle Mick in the award-winning twisted children's show Funz & Gamez.  Heralded by Phil Ellis, the show was the buzz hit of the festival, and scooped the prestigious Panel Prize at the Edinburgh Comedy Awards for its sheer brilliance and originality. The team recorded a pilot of the show for BBC Three, which was selected for the BBC Salford Sitcom Showcase.
Mick returned to the Edinburgh Festival in 2015 with his most recent live show: Mick Ferry is Just A Bloke.  He also reprised his role as Uncle Mick (albeit, returning as Uncle Rick) in the sequel to the previous year's hit show; performing to packed audiences in Funz and Gamez Tooz.
TV credits include stand-up performances on BBC1's Michael McIntyre's Comedy Roadshow, Sky1's John Bishop's Only Joking and three series of The Comedy Store for Comedy Central.  He has also appeared on BBC 2's Running Late, and The World Stands Up and Comedy Blue for Comedy Central, and has made multiple appearances on BBC Three's Edinburgh Comedy Fest Live.  He made his acting debut in Fire Salad; a play written by Tony Burgess and performed at the Royal Exchange Theatre in Manchester.  His big screen debut came in 2009, in Ken Loach's Looking For Eric; a hit feature film at the Cannes film festival where it was nominated for the prestigious Palm D'Or.
As a writer, Mick was a contributor on both series of John Bishop's Britain for BBC One, and also co-wrote Smalltime for BBC Three.  He has also written a pilot for BBC Radio 4; a sketch show entitled Turn Left at the Pier based in the glitzy showbiz world of Blackpool.    On radio, he's been a regular guest contributor on BBC Radio GMR and has presented his own show The Weekend Shambles on the North West's Revolution Radio. Other radio credits include Brand Spanking New for BBC7 and Jason Manford & Friends for BBC Radio 2.
Testimonials
"Ferry is clever. He is also dark. He is quite cool… moments of fresh brilliance… enjoyable and even slicker than his hair"
Edinburgh Festivals Magazine
"His material seems effortless… genuine warmth"
"His interaction with the crowd is top notch… comedy is a game that comes naturally"
"Performs with style and conviction, highly enjoyable"
"Absolute legend. Incredibly funny"
Manchester City Life Magazine
"A master at working an audience"
"One of the best comperes in the country"
"As good as it gets… highly original and hilarious"
"His star is in the ascendancy"
"See him or regret it. A great comedian."