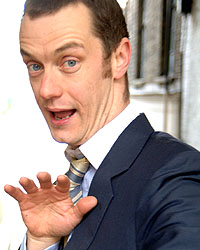 Paul Tonkinson


Download Bio

Paul Tonkinson
A sensational live performer, Yorkshire man, marathon runner and former (double award-winning) Time Out Comedian of the Year, Paul Tonkinson has long upheld his esteemed reputation as one of the finest stand-ups the UK has to offer. With a unique and distinctive style, Tonkinson is noted for his effervescent physicality and skillful impressions, which bring alive exuberant, tender comic reflections on love, family and the day-to-day idiosyncrasies of 21st century living. A plethora of first class material, combined with tremendous charm and irrepressible, infectious energy make for quite a formidable talent.
After many years of storming the circuit, and much badgering from fellow professionals, he took to the road in 2012 with his eagerly anticipated debut tour: Paul Tonkinson; Fancy Man. The tour took in 50 dates across the UK, and gave audiences the opportunity to experience the full Tonkinson phenomena in all it's glory.
Following his solo tour, he was given the opportunity to play to a wider audience, joining the mighty Michael McIntyre as a special guest on live shows around the UK. In 2013 he had the honour of joining Michael as a special guest on his global arena tour; playing to millions across the globe, as far and wide as Australia, New Zealand, Norway, Dubai, Singapore and Hong Kong.   Paul joined Michael again in 2015 as special guest on the Happy & Glorious Tour; playing to sold-out crowds in arenas across the UK.
On TV, he's most recently performed on BBC One's Michael Mcintyre's Comedy Roadshow and Comedy Central's The Comedy Store and The World Stands-up. He was recently a contestant on Ch. 4`s hit show Celebrity Come Dine With Me, proving he's not just a dazzling stand-up talent, but a whizz in the kitchen, scooping first place to win the cash prize for charity. Back in the day, when he was a mere whippersnapper he had a stint presenting Ch. 4's The Big Breakfast and he has also presented radio shows on XFM in London and Manchester. He has just completed a stint as a Programme Associate on BBC One's Michael Mcintyre Chat Show.
His first love remains stand-up, and Tonkinson remains in great demand in the UK and across the globe, performing at all the major international comedy festivals including the prestigious Montreal Just For Laughs festival where he hosted the esteemed Britcom Gala. Confirming his status as an invincible and highly versatile performer, he is also a regular entertainer for the UK Armed Forces, and has performed in Afghanistan and Iraq; playing to 2,500 troops in 45 degree heat in the middle of the desert.
Testimonials
"Nicely observed and beautifully illustrated with a wide repertoire of subtly silly comedy voices. The man's a one-man Simpsons cast as he brings to life the likes of his effete, sexually ambiguous ski instructor or a menacing South London laugh. At his best, he reduces a marital argument to meaningless sounds, prompting lots of chuckles of domestic recognition."
"Master at working a crowd, infectious vibrancy, lightning-fast comic mind, warmhearted, effortlessly likeable."
"Charismatic, combines the visual trickery of a Lee Evans with the improvisational skills of Paul Merton. Brilliant characterisations, his face, a wonder of contortion."
"Caricatures seem to flow out of his head like Ghostbusters sprites escaping a powered-down containment unit brought to life with physicality and cartoon-like voices. Mixes observational set pieces with audience interaction… hilariously obtuse … dependably funny."
"Excellent… extremely talented… brilliant"